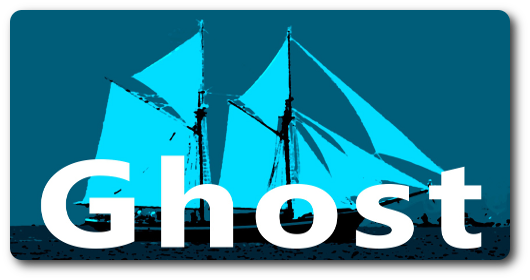 by Philipp Claßen
---
About
Ghost

:
Ghost

is a free amateur chess engine written in C++ (download-section)

Ghost

was also used as a subject for an important school work (german: "Facharbeit")
The name

Ghost

was taken from the name of Wolf Larsen's ship in the novel "The Seawolf" by Jack London.

---
News:
---
About the author of
Ghost:
Philipp Claßen
He made his final exam at the "Gymnasium Landau a.d. Isar", Germany.
Performed his civilian service (ger.: Zivildienst) in Straubing, Germany.
Subsequently, he studied computer science at the University of Passau, Germany.
After graduating, he went to Munich and joined a company called Nickwoods, where he developed systems for algorithmic trading (high-frequency trading).
In 2010, he moved to Hamburg to join the software company freiheit.com.
In March 2011, he again relocated to Munich, to work for Mercateo.com, an innovative B2B trading platform.
In April 2017, he joined Cliqz, a startup in Munich. Backed by Mozilla, its mission is to redesign the Internet for the user by combining the power of data, browser, and search.
---
Search algorithms:
Ghost 3:
MTD(f) search
Multicore support

Internally, it uses work-stealing provided by the Threading Building Blocks library.
Currently, there is still a known scalability bug in my implementation, so the speedup is not optimal (especially on an 8 core machine, where I get only about 5.5x).
I hope that I soon find time to fix the problem. Still, even in its current state, using multiple CPUs leads to a significant improvement in playing strength.

This is the most important algorithmical addition in comparison with Ghost 2. It was a clear improvement to the search.
Although, I try to keep the engine as original as possible, my current implementation is inspired by ideas popularized by Stockfish.

All in all, the search is fairly minimal. It is still work in progress and hopefully we will see some improvements in the near future.
As a side note, Enhanced Transposition Cutoff (ETC) is no longer used. It tried hard to make it work but at best it was break-even and the code became more complicated.
Ghost 2:
MTD(f) search
Late move reduction (LMR) with verification search
(Many thanks to the authors of Fruit and Glaurung!)
Killer + history tables
Internal iterative deepening
Selective techniques like:

Recursive nullmove ("2-3 plys reduction")
Razoring + futility prunning
History pruning

Enhanced Transposition Table Cutoff
Unique techniques:

Perpetual check detection (much safer than in

Ghost 1

)
Pin detection extension
Local history counter (in contrast to global history counters)
Ghost 1:
Negascout search
Internal iterative deepening
Killer + history tables
Selective techniques like:

Recursive nullmove ("3 plys reduction")
Razoring + futility prunning

Prescan tables (never really worked well...)
Unique techniques:

(Crazy) perpetual check detection (an unique, but too dangerous idea!)
---
Download:
For Arch Linux based distributions, it is recommended to use the AUR package.
What about 32-bit Windows?
I know that there are requests for 32-bit Windows. Unfortunately, when I build a 32-bit binary of

Ghost 3

, it crashes immediately. If you would like to see a release of

Ghost 3

for 32-bit Windows, please let us know.
---
Micro-Donation:
If you like Ghost, please flatter us:

---
Links:
---
Contact:
---
authors: Michael Claßen, Philipp Claßen impressum Last modified: Thu Oct 27 16:23:55 CET 2014